Regular price
Sale price
$36.00 USD
Unit price
per
Sale
Sold out
Evelyn is not currently in production.  If you'd like to be notified when we're bringing her back, sign up with the notification button :)
Evelyn Scissormouse is ready to keep your scissors safe.  A fluffly sewing room companion ready to aid your special crafting, especially before the ball! This 100% wooden scissor holder is not only functional, she's as cute as a button.  Scissors included!
Fresh from Amish country, Evelyn is machine and hand crafted using Ash and Cherry wood in Nappanee, Indiana. She has a front and a back side.. After she's born Evelyn gets a protective coat for a gentle shine.  She even SMELLS GOOD if you're into fresh cut wood. :)  She comes in a fancy bag with an adoption certificate, ready for gifting.

Evelyn measures 4 1/8 inches tall, 2 1/2 inches wide, and 2 1/2 inches deep. She sits on a square base for extra stability.  Evelyn looks best holding a pair of embroidery scissors that have a straight shaft and parallel finger holes.  The scissors I think look best are this pair of golden-handled embroidery scissors by DMC.  These are included with Evelyn, but as you can see from the picture, different styles can be used.  The familiar "stork" style scissors do not work with Evelyn due to their diagonal shape.
Unlike my scissor bird, Edgar, Evelyn comes in two separate pieces (mouse & base) that fit together.  If desired, you can use a little wood glue to permanently affix her, but she is perfectly useable within five seconds of opening her, and gluing her together is not necessary.

PLEASE NOTE: Because Evelyn is hand and machine crafted and uses real wood, each mouse is 100% unique.  The wood has two color variations as seen in the photo, every now and then both colors are present in one mouse.  The wood grain across her sides and on her base may differ from the picture shown above. Small knicks or inconsistencies may also be present. Evelyn is made out of not-perfect natural materials by not-perfect humans. The laser engraving process may also leave slight dark smudges. 
Share
View full details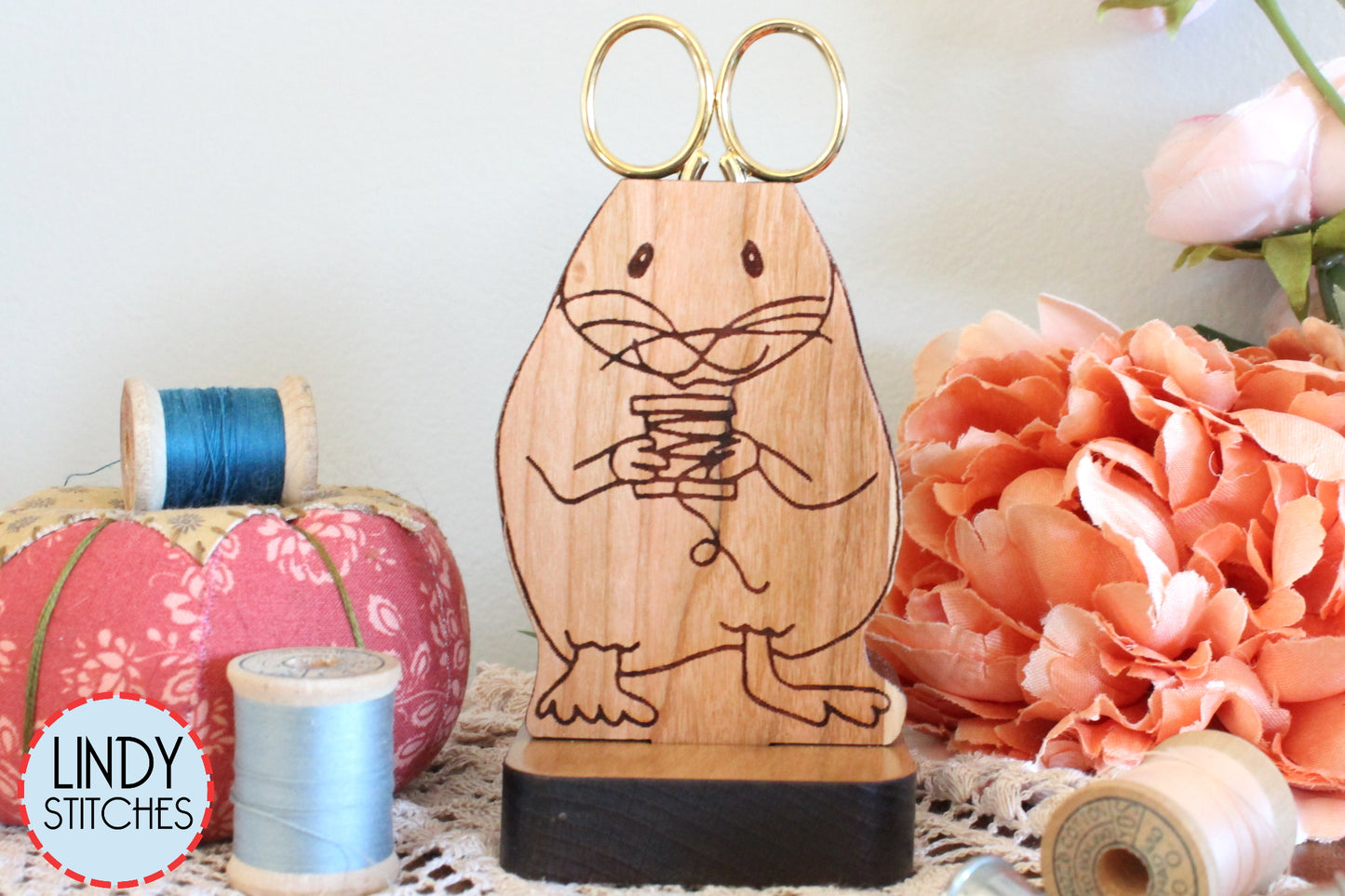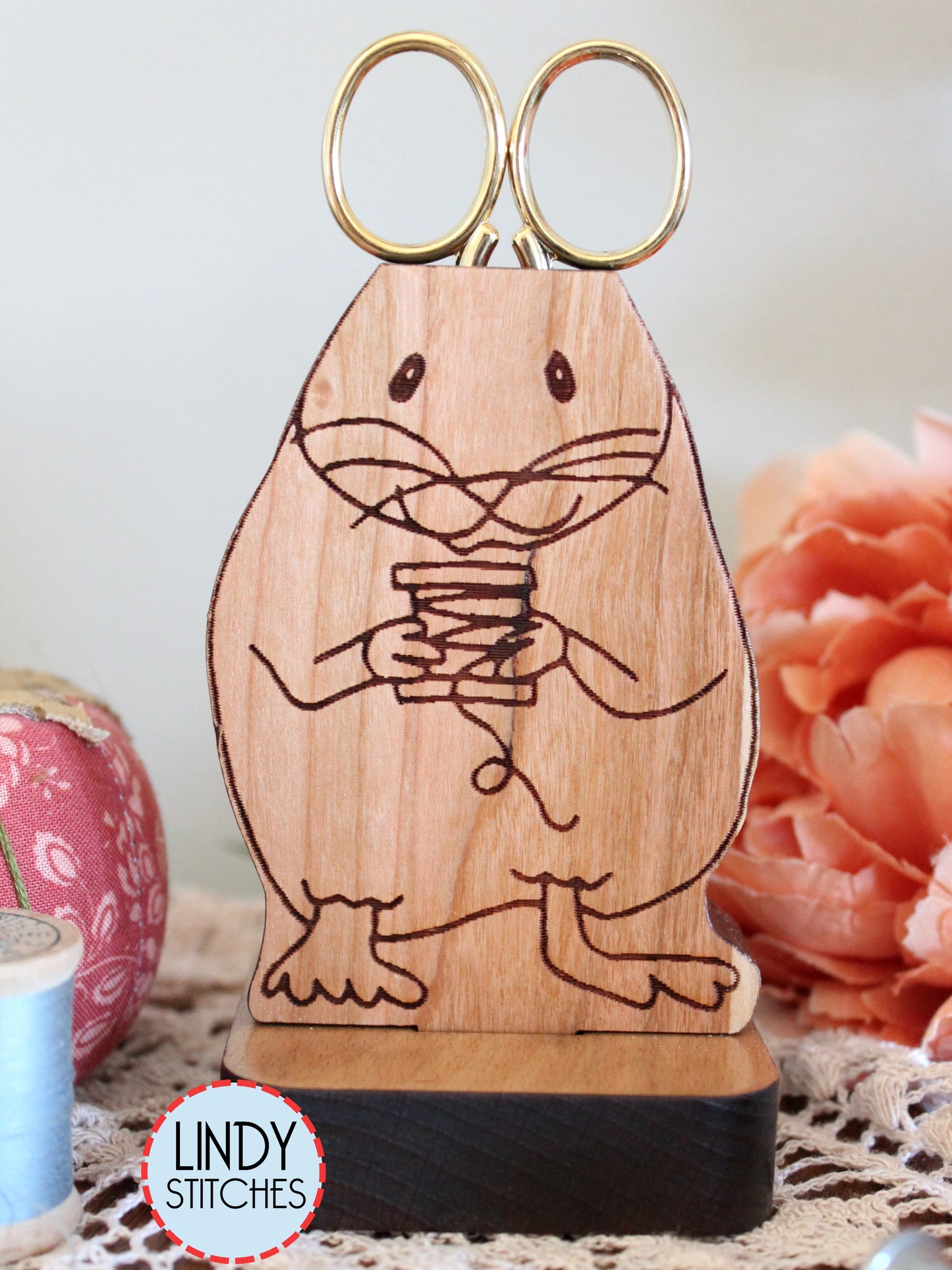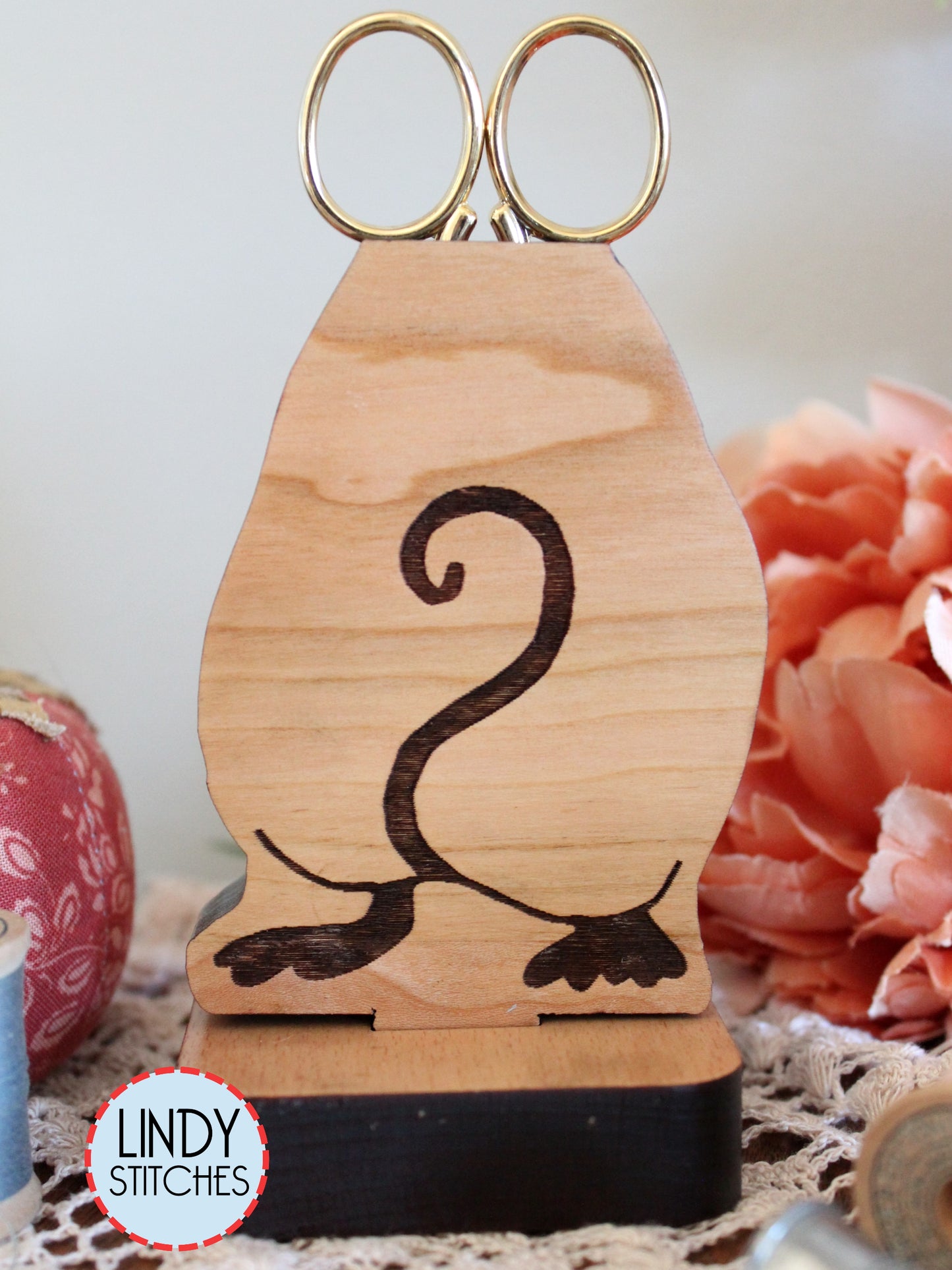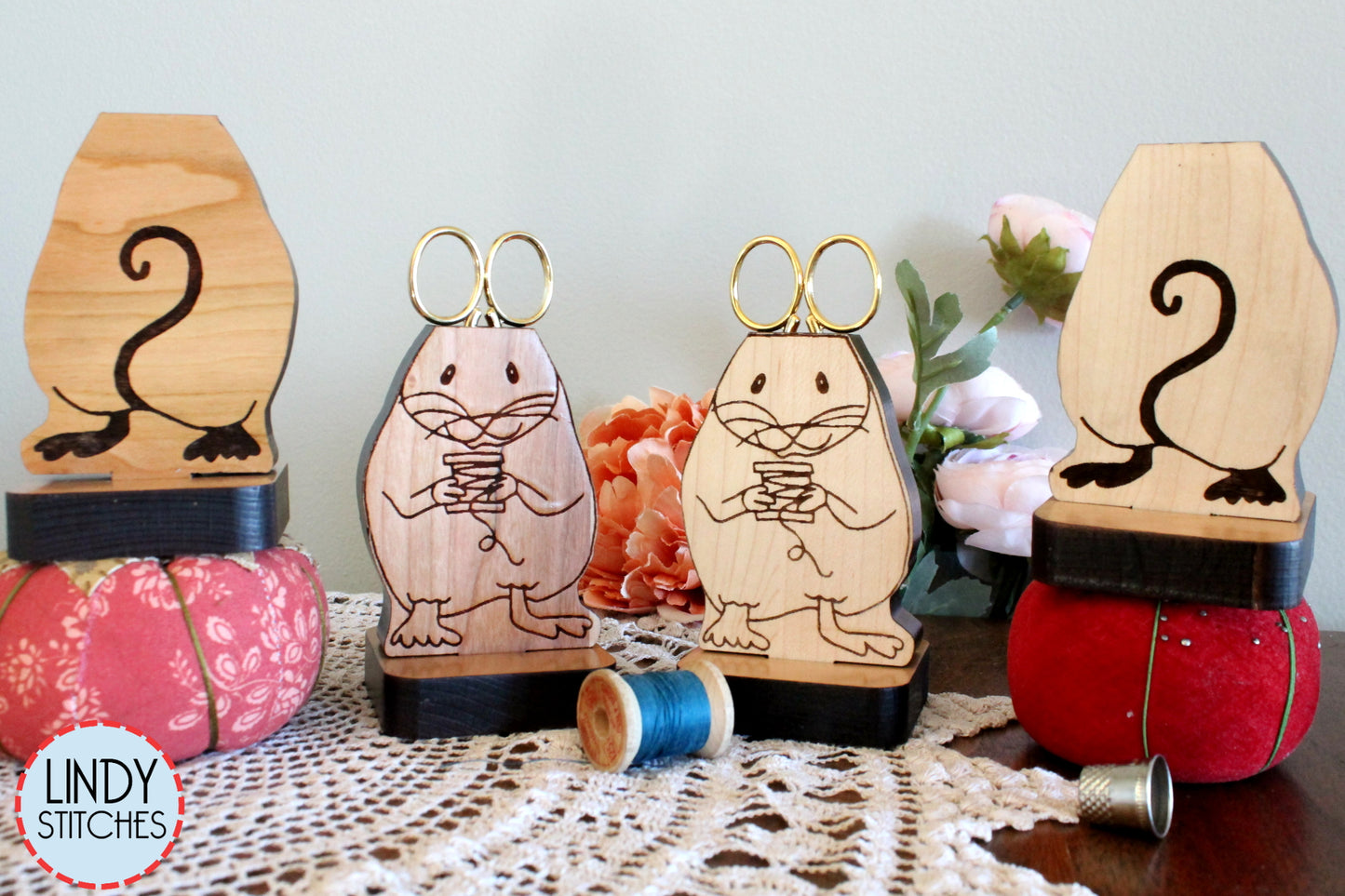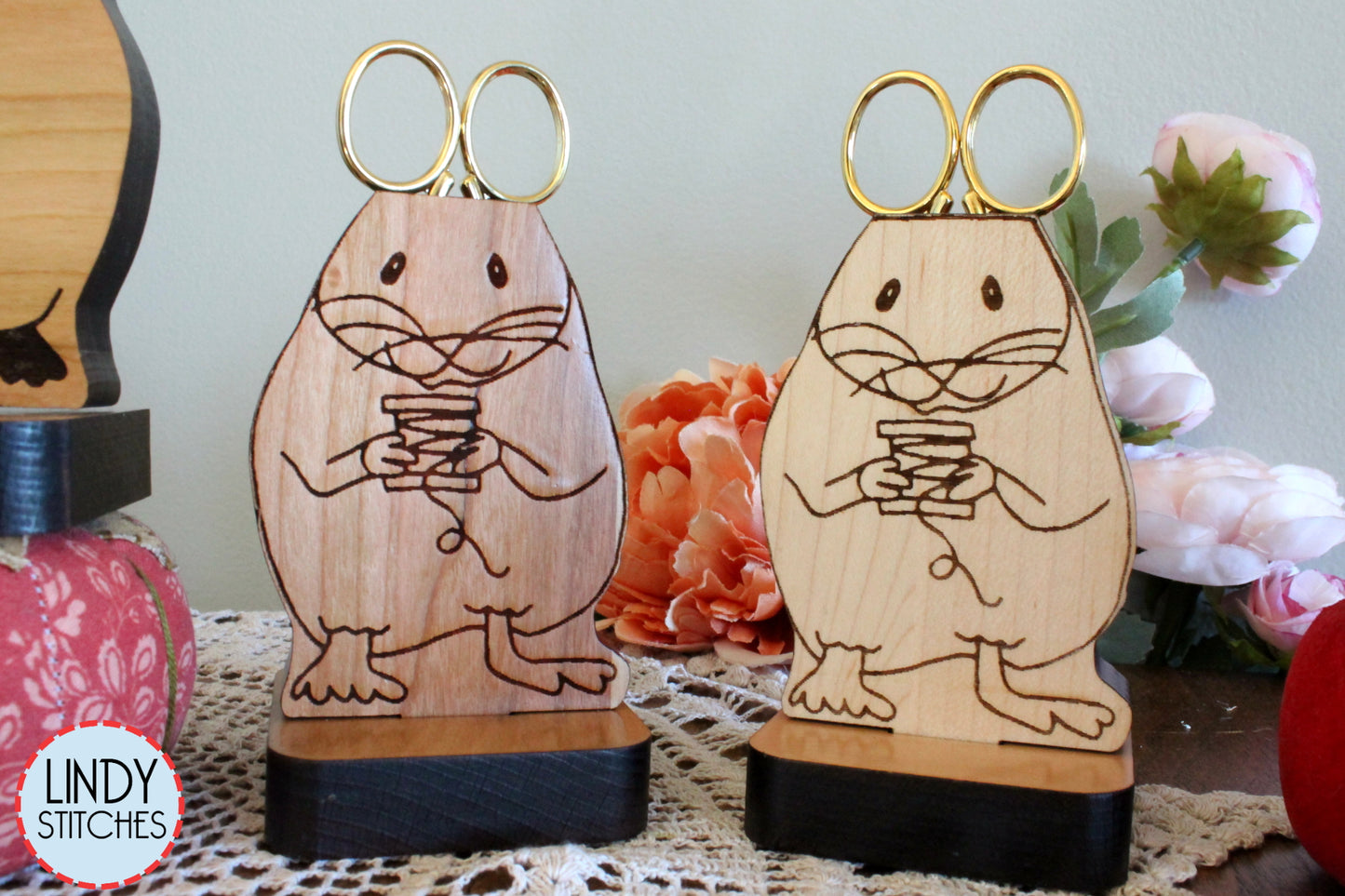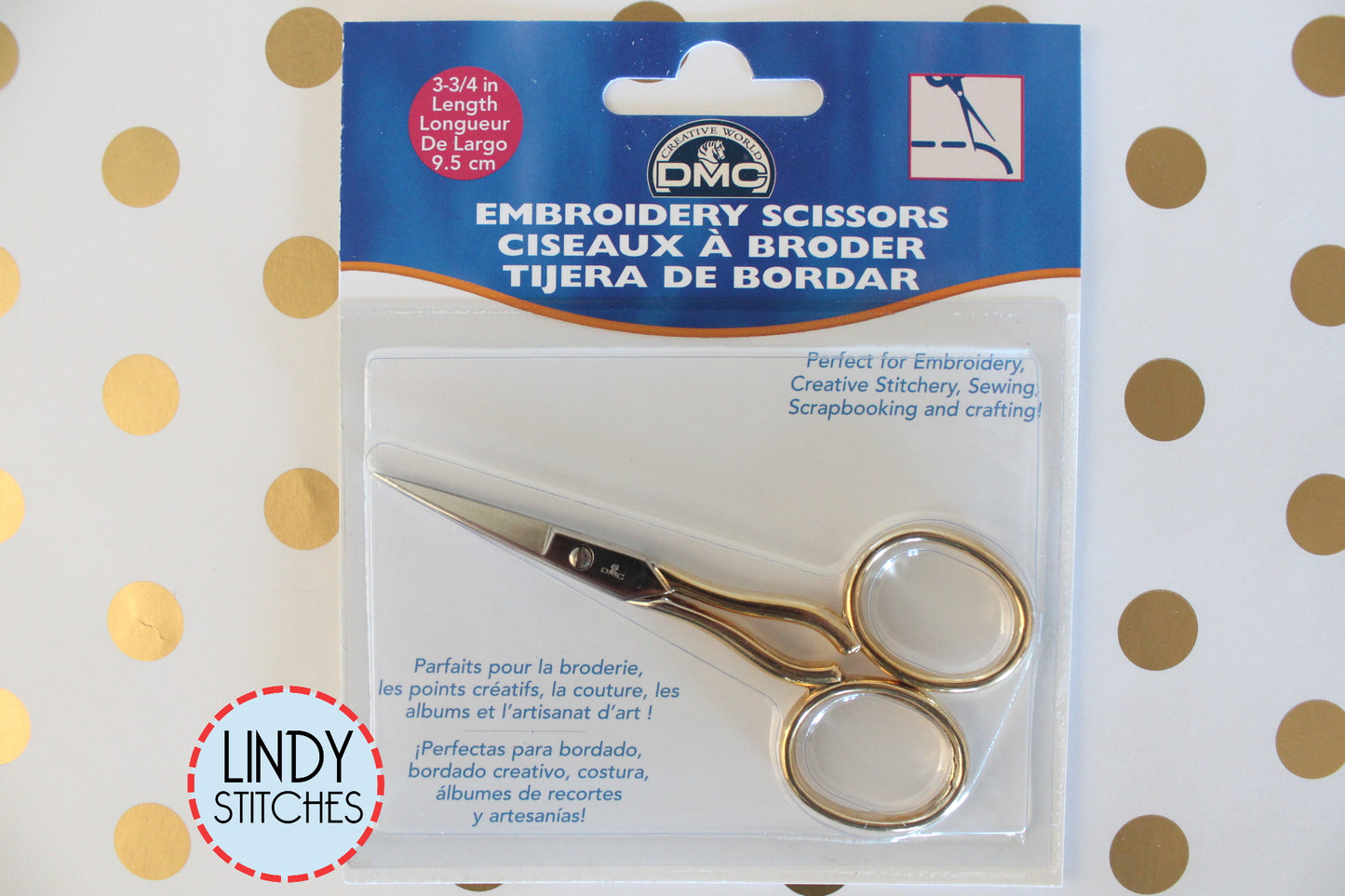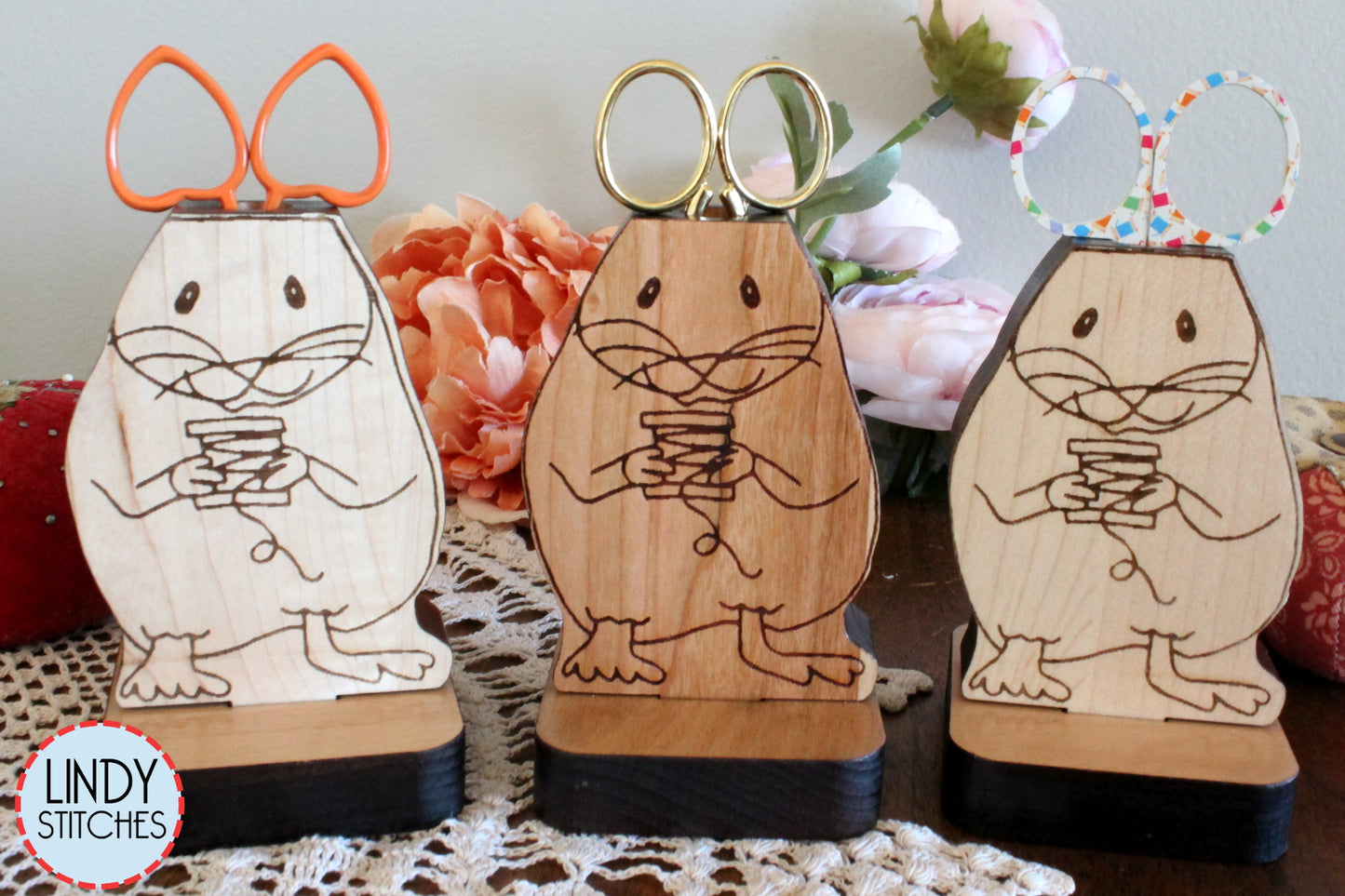 My little half-and-half Evelyn is adorable! And terribly practical, too. I'm so pleased with my purchase.
Evelyn Scissor Mouse
I love my Evelyn Scissor Mouse scissor holder. I have two now! I keep one at my sewing machine and one by my stitching chair. She is so cute and is very well made.
Scissors holder
The cutest, most adorable scissors holder ever and very very well made. If you stitch, you need one of these!
So Adorable!
Evelyn is just what I needed for my sewing table. Is it weird that I keep thinking about getting more cute snips to give her an ear refresh now and then? I love that she's artisan made and I will enjoy her for years to come.
Scissor Holder
I was excited receiving it. I love it and the package had extra surprises too. I wrote the date on the bottom and name. She makes me smile every time I see it. Not losing scissors anymore.