Regular price
Sale price
$34.00 USD
Unit price
per
Sale
Sold out
Edgar is not currently in production, but if you'd like to be notified when we're bringing him back, sign up using the notification button :)
Edgar Scissorbird is ready to keep your scissors safe, even during midnights dreary! This 100% wooden scissor holder is not only functional, he's as cute as can be. Just look at those "beard" feathers!  Edgar has been updated from his first design.  He now comes in two separate pieces (bird & base) that fit together.  If desired, you can use a little wood glue to permanently affix her, but she is perfectly useable within five seconds of opening her, and gluing her together is not necessary.

Ever since I ran across a vintage scissor bird, I've wanted to design one myself. My woodworking friend Dan made my dreams a reality by crafting a scissor RAVEN, just for me. Fresh from Amish country, Edgar is machine and hand crafted using Ash and Cherry wood in Nappanee, Indiana. His features are engraved on both sides. After he's born Edgar gets a protective coat for a gentle shine. He even SMELLS GOOD if you're into fresh cut wood. :)

Edgar measures 5.25" wide, 4.25 inches tall, and 4 inches across. Edgar's beak looks best using the familiar stork-style scissors, but he will hold other types of scissors with a shaft of around 2 - 2.5 inches before the scissors widen out so that the scissors can fit through his head and create a beak. Otherwise he won't be able to say 'NEVERMORE' when you're least expecting it.

Should you choose to order scissors with Edgar, you will be shipped a golden pair of stork scissors as shown in the picture. Handles are golden plated and blades are stainless steel.

PLEASE NOTE: Because Edgar is hand and machine crafted and uses real wood, each Edgar is 100% unique. The wood grain across his sides and on his base may differ from the picture shown above. Small knicks or inconsistencies along his back may also be present. Edgar is made out of not-perfect natural materials by not-perfect humans. The laser engraving process may also leave slight dark smudges.
Share
View full details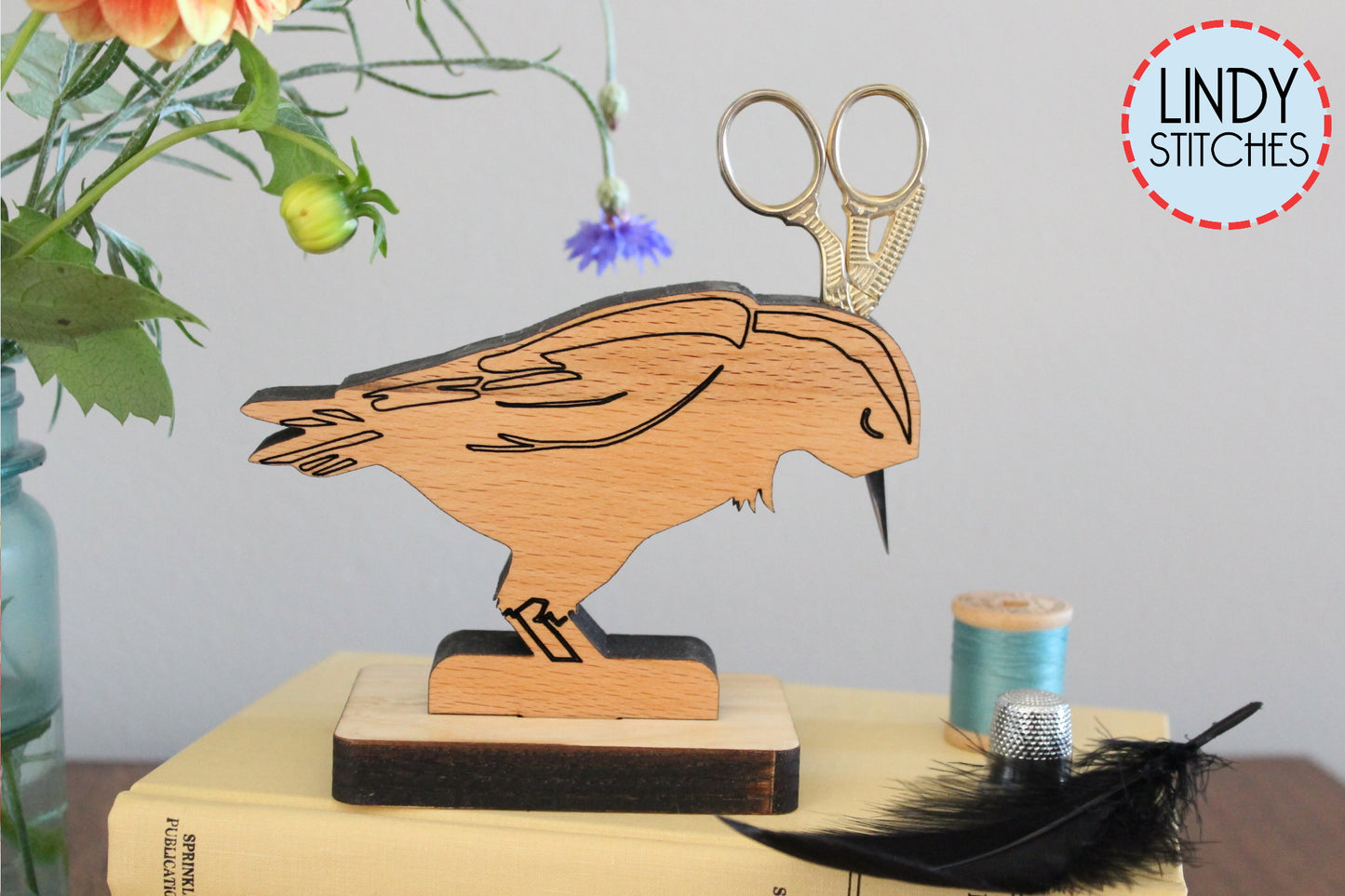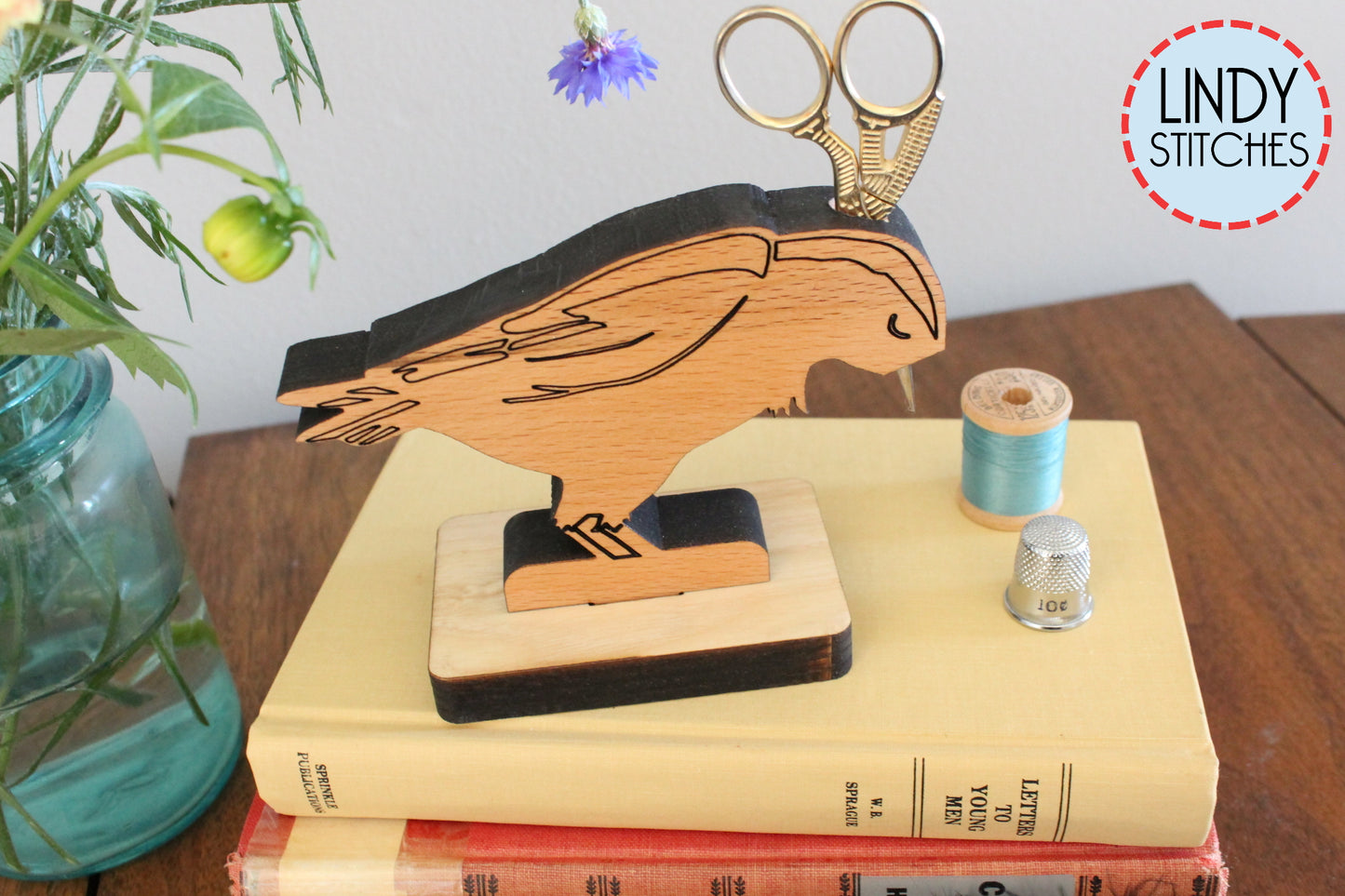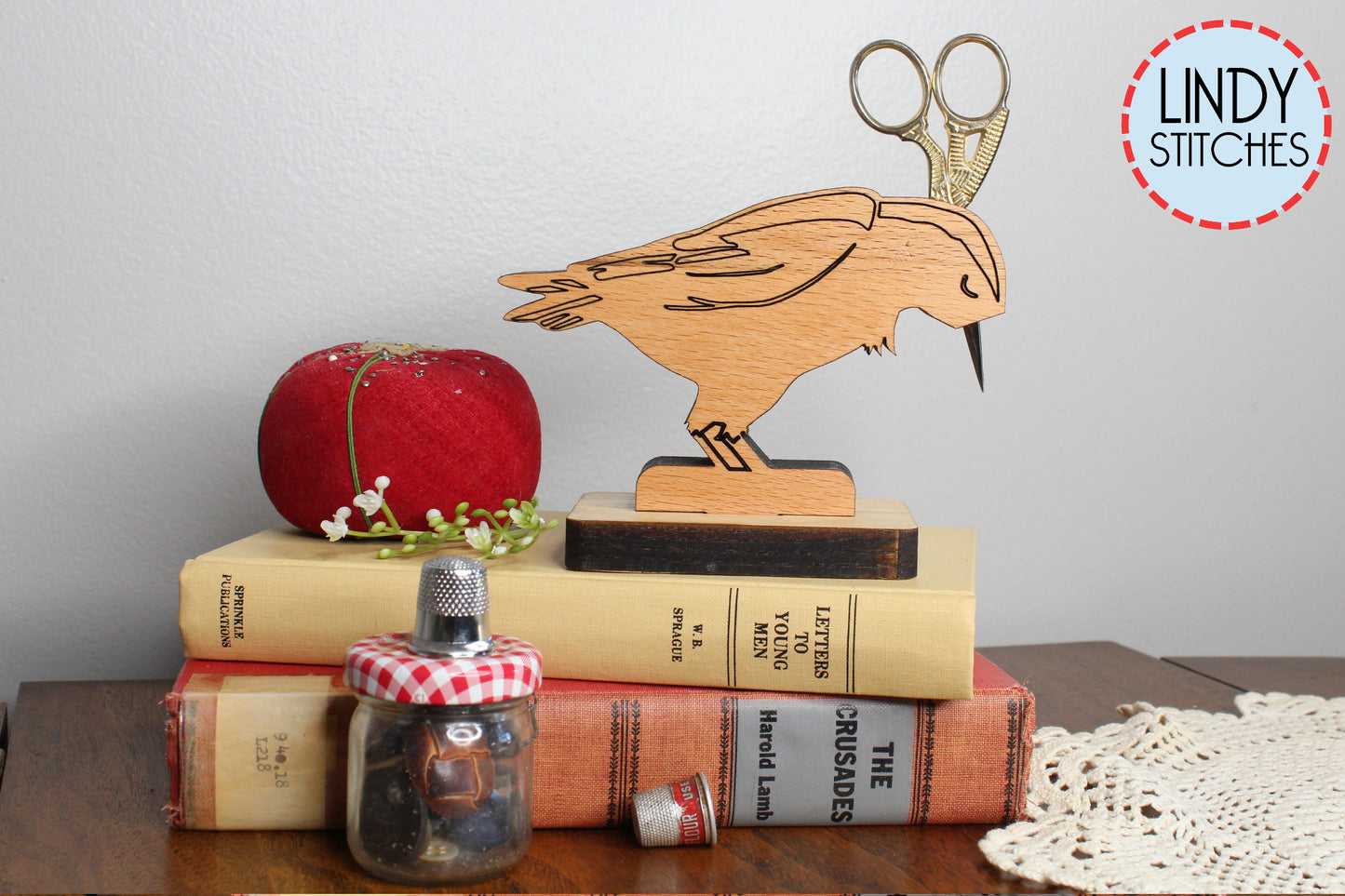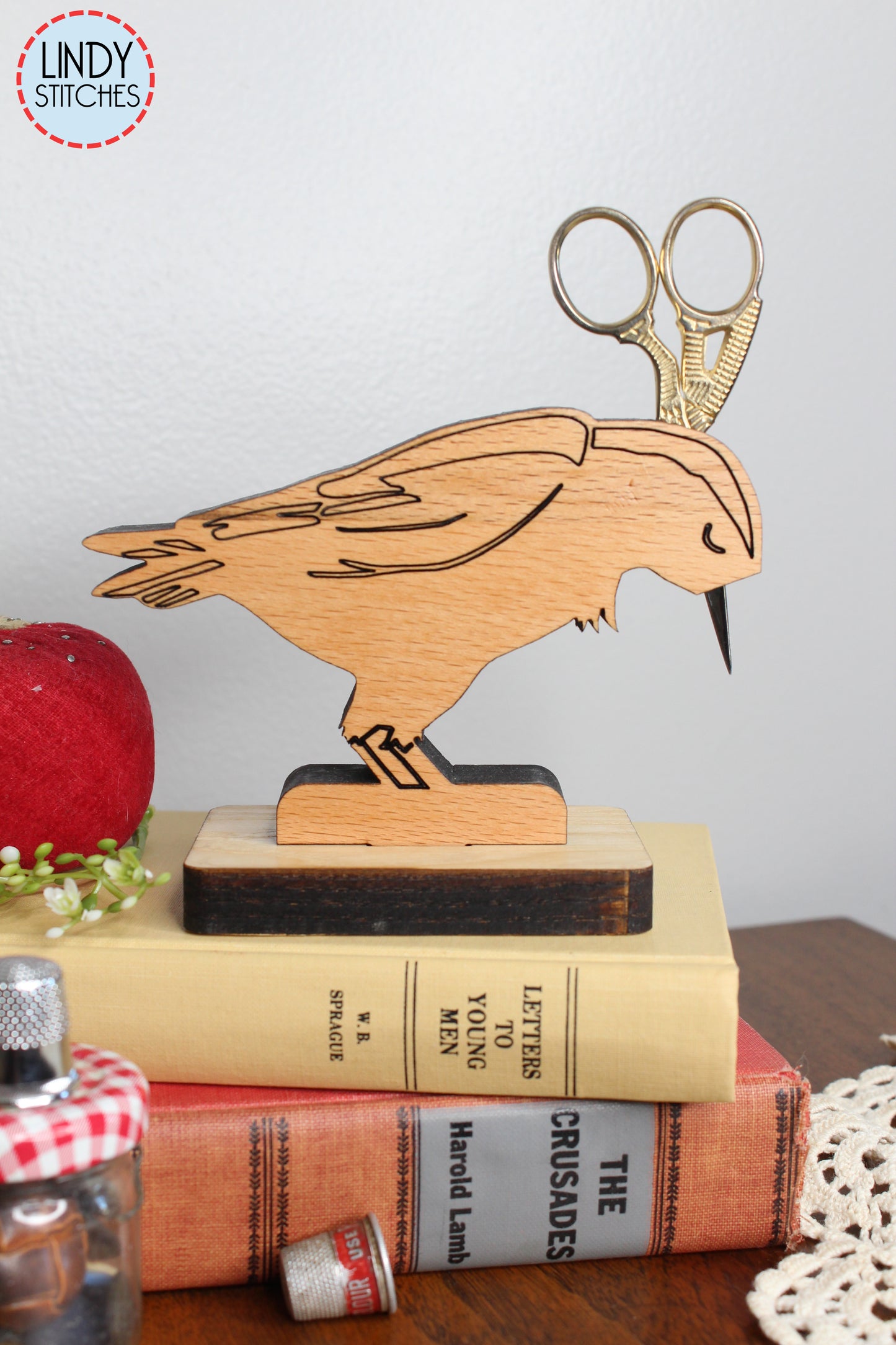 Edgar scissor bird is a beautiful decoration
Beautifully made and looks great as a decoration also. I have received a lot of compliments from non-stitchers also.
Unfortunately, one side of the bird was strangely colored (half light wood and half dark wood on the diagonal). I would have preferred either all dark or all light coloration. I wish I could darken that side of the bird so that it doesn't appear 'strange'. However, I do love the design.
Adorable scissor holder
Such a fun item to add to stitching accessory collection. Made so nicely with care.
Well made
Love my bird! So cute sitting by my stitching chair. I love that the beak is the point of the scissors. Well made and the finish is so nicely done.
Great scissor holder
This bird rocks! He is very sturdy and beautiful. Came in a lovely mesh bag. It is now his travel pouch as he is coming to all retreats. Beautiful job!!