Regular price
Sale price
$10.00 USD
Unit price
per
Sale
Sold out
Air Mail MAY #2 Red-Cheeked Cordon-Bleu Cross Stitch Pattern.  Continuing this little series featuring feathery stamps!  This is the second stamp, representing May with its flowering trees and sunshiney goodness.  As soon as I saw the Cordon-Bleu I fell into serious twitterpation.  The Air Mail series is SO FUN to stitch with its concentric circles in a geode pattern for the wing!  The colors are just a joy to work with!
About the series:  The Air Mail series will be releasing throughout 2023 and 2024.  The entire series will feature a bird stamp of the same dimensions.
▶PATTERN INFORMATION
STITCH COUNT: 73 wide x 85 tall
SIZE on 32 count linen or 16 count aida: 4.5 x 5.3 inches  
FABRIC:  32 count Silver Moon linen by Zweigart
ALTERNATIVE FABRICS:  32 count Silver Moon lugana, 36 count Silver Moon linen.  Any light grey would look great!
STITCHES USED: Full cross stitch, back stitch
FLOSS: Weeks Dye Works & DMC.  Full DMC conversion provided.  FLOSS PACK HERE
FINISHING:  Finished with Lady Dot Creates Sea Glass Velveteen, Gold Fish Rick Rack, and Pinki Pom Pom Trim.  FINISHING PACKS AVAILABLE HERE
▶FLOSS LIST:  To complete this project you will need DMC 13, 310, 349, 353, 3032, B5200.  The following Weeks Dye Works flosses were also used.  You may choose to use the DMC equivalents in parenthesis if desired.
2118 Blue Topaz (DMC 3810), 1238 Cappuccino (DMC 3863)
2227 Daylily (DMC 402), 1236 Mocha (DMC 3862)
1282 Ocean (DMC 3809), 2246 Sunset (DMC 722 or 957)
Questions? Feel free to email me at steph(at)lindystitches(dot)com.
© 2023 Stephanie Webb I Lindy Stitches Lindy Stitches Cross Stitch Patterns are for personal use only. Please do not copy or share. All PDF patterns are copyright protected and may not be redistributed, reproduced, or shared in any manner. Thank you for respecting my rights as a creator.
Share
View full details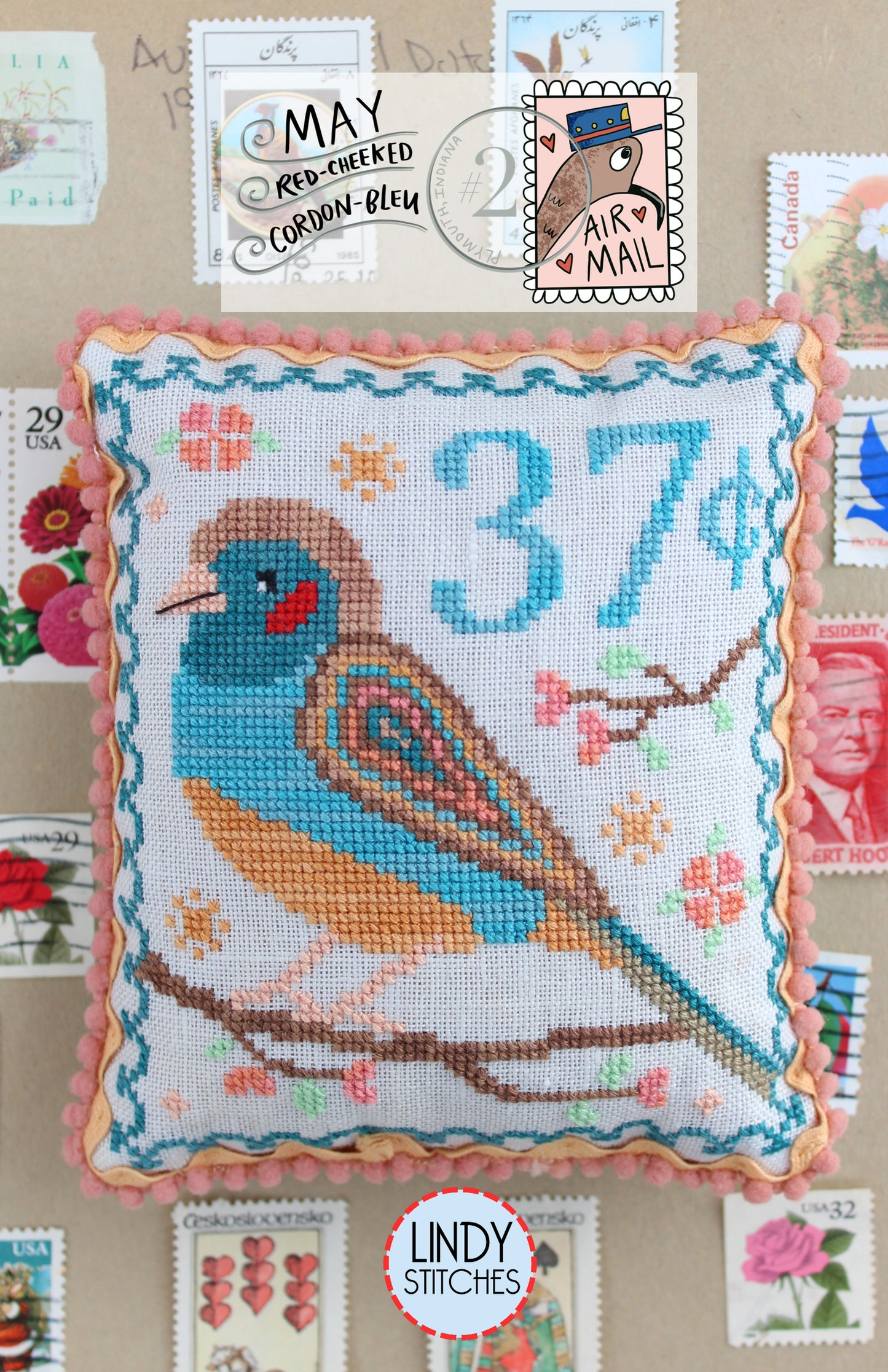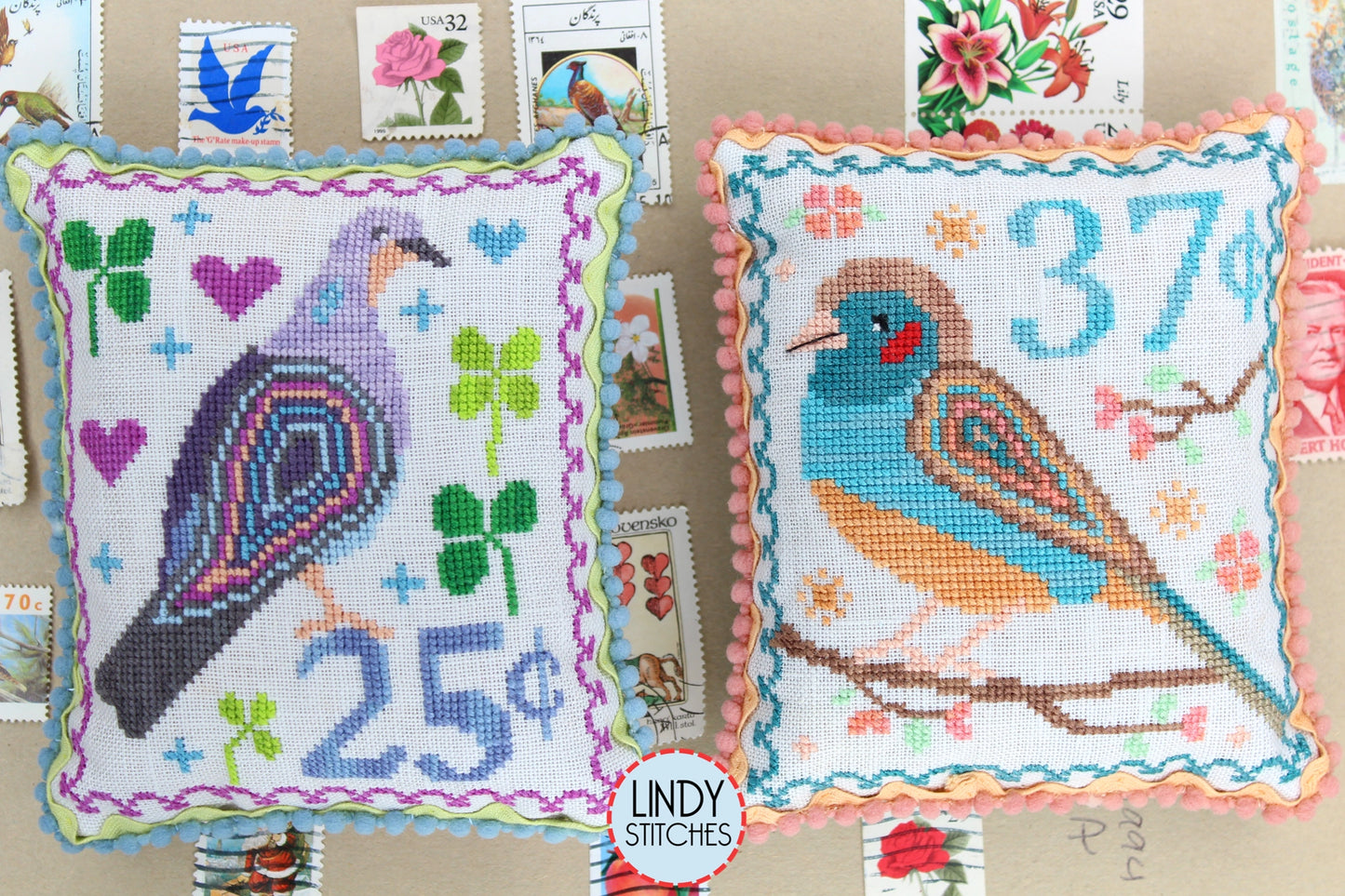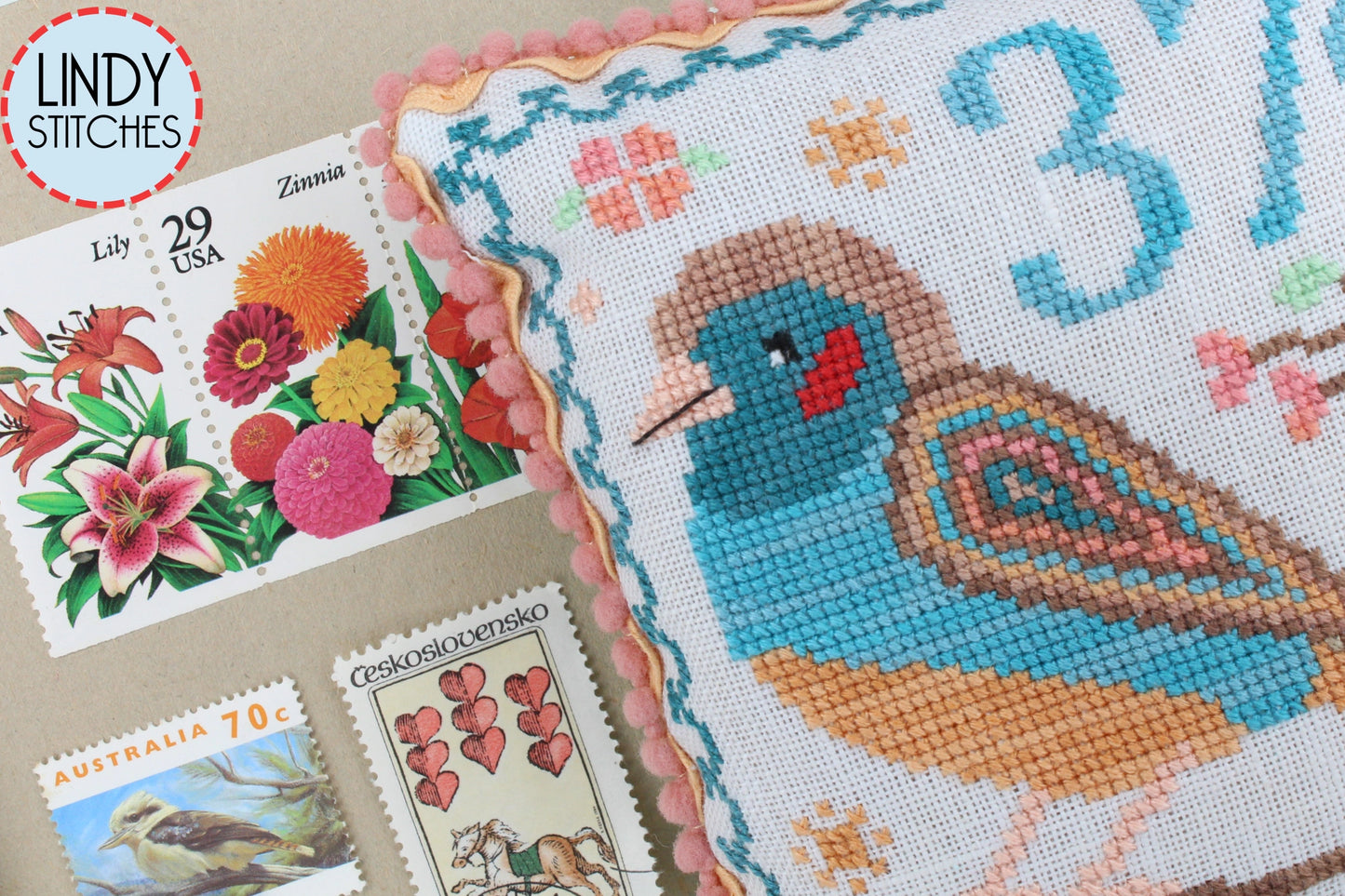 Air mail
Beautiful pattern easy to follow the colours are so beautiful this is proving to be a very enjoyable holiday stitch I look forward to finishing it and starting another
Air mail birds
I've just completed the stitching of #1 for summer camp with Colorado Cross stitcher. I'm looking forward to stitching #2. I appreciate being able to purchase the fun pattern, fabric, specialty threads, and finishing materials for each of these Crosstitch patterns. Fun to stitch! Easy to fully finish! Thank you!
Red cheeked Cordonblueand floss pack
Love the colors and really like the floss. Have not started this pattern yet but it is in line for me to start soon. Looking forward to stitching it.
Air Mail Bird #2
I love this series! The colors are amazing. I finished the first air mail bird and cannot wait for the entire series. As always, lightening fast shipping!
Air Mail
I LOVE your Air Mail birds. I am primarily a sampler stitcher but there are 3 designers whose work can me tempt me from samplers. Lindy Stitches is one of the three. Thank you for all you do.